So this in response to Russell? Is this a shot to say if you want to move on so can we from the hogs?
I sure don't know if this tied to Russell, but this early in the class of 2024, it would not be surprising to me to see numerous offers to running backs. Not sure how many the staff will want to sign, but obviously there have been classes with more than one signed.
I know its here to stay in some form or another, but seeing it on a recruiting forum makes me sick. Seeing a recruiting service putting an NIL Value on a recruit is just wrong.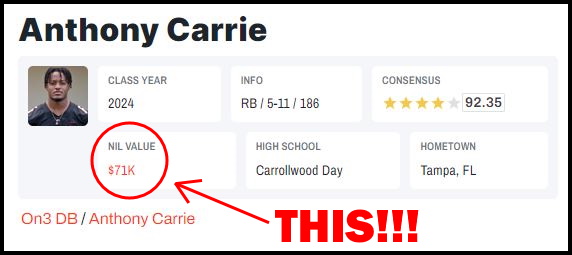 Honestly, I'm not sure showing those numbers benefit either the players, the institutions, or the fans. That would seem to me to be something you would want to simply negotiate in privacy. I could see paying an outside service for that information, but having it out there seems like a bad idea. I would want mine taken down immediately.

Aloha,
Is the NIL valve a signing bonus? A college career valve? An annual valve? How do they determine a NIL value? This is a question I have often posted the past several months.
UA…Campus of Champions

I think it's up to an individual's interpretation. Could see it both ways.

That would probably be a question for some of the better agents out there that represent kids & parents.

Arkansas doesn't promise a dollar figure like some schools. That can come back to bite you. They obviously mention how Arkansas businesses support the program and the opportunities will be there.

Already hearing the promises made in the recruiting process aren't matching up once kids get on campus at some schools.

Some of us old farts think it is the end of what we consider amateur sports in the collegiate.world.

Personally, I think it's asinine to try to put a dollar NIL figure on a high school recruit. NIL is in its infancy and there are no solid historical figures to rely on. It can be very negative to both player and team. It will chase players to the portal early because they feel disrespected by their coaches and team for not paying them what some recruiting service told them they were worth.

Aloha RD,
Thank-you for the reply. If possible, it would make a great article if y'all can interview people who fully understand how the NIL process works and enlighten us mortals.
UA…Campus of Champions

I thought I posted this but I guess I didn't. Anthony said he definitely planned to visit.

This topic was automatically closed after 30 days. New replies are no longer allowed.

/**/