Time to get reacquainted with FloSports:
For anyone in the area, here are the names of the gyms the games will be held in. Game 1 is at the top.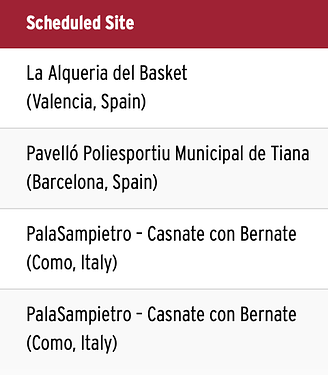 Oh, good Lord. This was not what I was hoping to hear.
Yep. FloSports is a no go for me.
If we do decide to subscribe, Is there any reason (hog sports wise) that we should subscribe for a year?
Are there any other games that would show up on flosports at a later time? baseball or otherwise?
Matt can correct me if I'm wrong, but I believe Arkansas baseball will have games on the platform next season.
It seems like I used this for last years baseball series down at the stadium in Arlington and was able to cancel after watching the games.
I think the baseball games in Arlington against Oklahoma State, Texas and TCU will probably be on FloSports in February, but that hasn't been announced.
IMO, paying for FloSports is just a way to throw away money. I refused to pay for the baseball games last spring. I had been burned before.
No go for me.
Again this piling on channel after channel after channel is about enough…Maybe I'll use my supernatural abilities to see it, LOL…
I've done the Flosports for both of the baseballtournaments in Texas.The first year I thought the coverage was pretty good, this past year it was horrible. I don't know if it was because of the facilities that both venues or not.
I don't know what kind of ability they will have to stream in a place that doesn't even have air conditioning… I want to watch it and I may pay to do it but I'm kind of doubtful as to what I'll be watching
Yes you are able to cancel immediately after the games
Be aware you need certain devices to stream Flosports.
The best way I have found to use FloSports is to stream it on my phone and mirror that to the TV.
I was able to find FLO on my Android TV and watch it directly that way. Watched all the games the past 2 years and thought it wasn't the best production, I enjoyed being able to see the games. I will probably do the same this month for Basketball.
As Youdaman mentioned, you can just buy the month and cancel afterwards. That's what I've done the past 2 years.
I got the app on my Firestick, but it was awful. Although, that could have been because the picture selection was atrocious.
I thought the FloSports production was good for the baseball games in Arlington last year. It was not as good for the games in Round Rock this year.
We've been told the internet connection is not good in at least one of the gyms where the basketball team will play in Europe, so I wonder how good the broadcast will be from there.
Crazy that we can get games streamed from Europe, but NLR, nah.