Enjoy.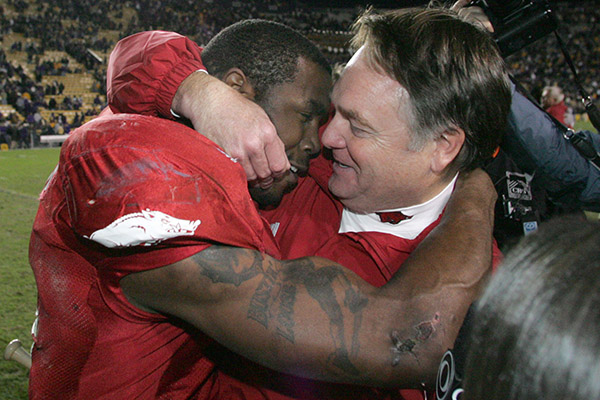 I think that is probably the most memorable Razorback football game I've attended. Just a great game.
I wasn't at the game, but it felt like I was. My girl friend and I had taken a 4 day week-end trip to New Orleans and were staying at Harrah's.
We were parked, in our Razorback gear, at the big bar just off the casino floor, rooting for the Hogs among about a hundred LSU fans. One other patron, in Texas Tech gear came over and joined us. He said he didn't want us to feel like we were the only non-LSU fans in the bar.
There was a bit of "jawing" back and forth throughout the game, but they were actually pretty good LSU fans, especially considering the huge impact they thought that loss had on their National championship hopes.
During the game and after, there were a number of those LSU fans commenting on DMac and how he was the best player in college football that season.
Yes, that was a tremendous effort that night by our Hogs and absolutely D-Mac was no doubt the best player in the nation and got robbed not once, but twice by the Heisman voters. Had he played for LSU, Notre Dame, Ohio State, USC, Florida he likely would have won at least one 1 Heisman and possibly 2.
My story about that game is a technological quirk. My parents came over to our apartment in North Little Rock to watch the game with us; I think Mom had gone Black Friday shopping at McCain Mall or something. We were watching in the living room, near the main cable outlet. My son, who generally avoids human contact, was watching in his room. Somehow, although the cable went past my main TV to get to my son's room, he was seeing the game a few seconds before we did.
So at the end of the third overtime, LSU's lining up for their 2-point play, and my son yells "Interception!" Sure enough, a few seconds later I see Materrial Richardson jump that slant route and make the pick in the back of the end zone. Obviously my son saw it more live than I did.