Check out RD with the scoop… Out here breaking stories.
First time I've seen his name mentioned, even as a potential candidate. Looks to be a good rebounder. Does Muss view him as primarily a PF? We are his 4th school.
FWIW, so people know. Trey announced his commitment on Instagram first and then Twitter. I posted my story after he announced on Instagram. My tweet is time stamped before his Twitter announcement.
I'm not going to post a story before a player announces.
I knew you had someone up your sleeve RD! MY man!
Did you know about this player being an eminent commitment Richard? Or was he a surprise?
I heard. He's been mentioned here.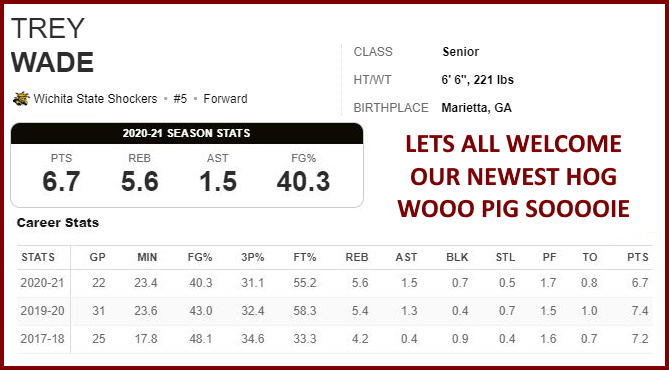 Well. Interesting pickup.
Wade never lived up to his potential at WSU. Maybe Muss can maximize his skill set like he did with Justin.
Khamani Johnson and now Trey Wade to play the "4" spot. Ehhh.
Yeah maybe. I really wish Akol Mawein had stuck around.
At this point, Stanley Umude is probably the best option currently on the team to play PF. He's so versatile offensively, like Mason Jones. Umude can play 1-4 positions.
Wichita State was a dumpster fire this season, so I wouldn't read too much into his stats there. Apparently, he's a hard worker and determined rebounder. He wasn't recruited to start here, but the things he is good at can definitely help us off the bench. I'm guessing you would feel differently if he were 6'8"?
They went 16-6. Don't see that as a dumpster fire. Isaac Brown did a great job of righting the ship.
I was talking more about the Gregg Marshall saga, RD. I honestly didn't look at Wichita State's record last season before I posted. Bottom line, I think Trey is a nice pickup.
Another proof that Muss wants to play positionless basketball and is not interested in recruiting the type of bigs that fans want.
Wade definitely provides depth for the type of ball Muss wants to play.
Like this a lot. Guy that does the dirty work, rebound play D. Someone compared to Adrio which could be a good comp. Probably won't start but solid for depth.
I think that is very spot on comparison, in terms of size and skill set. And amazingly if you look at the stats of their last year in college, it reinforces that.
             Wade.      Bailey

Mins. 23.4. 22.8
FG. 56-139. 76-157
FG%. 40.2. 48.4
3ptFG. 19-61 15-39
3pt%. 31.4. 38.5
FT. 16-29. 35-67
FT%. 55.2. 52.2
OR. 42. 35
Tot reb. 124. 141
Reb avg. 5.6. 4.4

Overall, Adrio is a slightly better shooter and Trey a slightly better rebounder. Both have had their battles from the free throw line. Adrio did have lot more FT attempts. That could mean Adrio was more aggressive or it could be just the timing of when either got fouled.

But overall as you say, a perfect role player get for how Muss wants to play

Very true. Hopefully they are both better than I think.

looks like he's built to be able to help on the boards and step out and pop a 3 ball if left alone…looks pretty solid pickup to me.

He looks like he can hold his own on the court. Enforcer on the way.

/**/