Oh my goodness - we are long and fast!!
Tea leaves are shouting no JWill next season

Wax
Lots of forwards, but no post player…
I have to think that either Kamani or JWill is gone. Or both. I'd be very surprised if we loaded up on forwards THIS much otherwise. But with Muss, ya never know.

We have 4 potential post players if J Will comes back. We are in a million times better position to play any style we want to play and defend any style we need to defend with the lineup we currently have
What do you call Makhi Mitchell?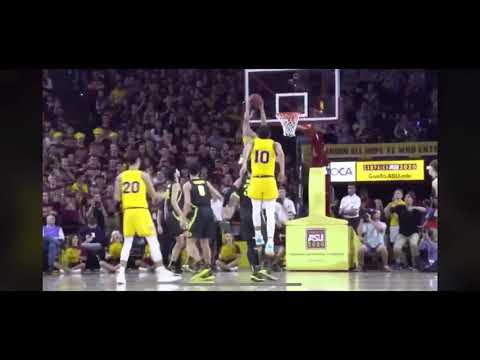 I like the way he takes it to the rack and stuffs it,not go to miss layups that way!although I am little more concerned now about J will with these last 3 Bigs on board.

Wow….didn't see this coming…guess that takes away my wish list of Terrance Shannon lol.

I am now getting more than concerned JWill is not coming back. I hope I am very wrong on it. If he does he and the 6'10 twin can play center and we have 3 forwards. Or, you have 3 forwards on the floor. Or, 2 bigs and a forward. Or, man I hope he comes back to be a part of this unreal team being put together right before our Hog eyes!

So as it stands now we hit the portal for four long dudes who can play 4/5, run the floor well, block shots and attack the rim, to go with all those freshmen who play 1-3, are long, in some cases really creative, and can score the basketball.

JWill has a spot if he wants to come back. I guess Devo comes back(although for the first time I'm not 100% sure) and who knows about K. Johnson and Jaxson.

Length, quickness, and athleticism at every position on the court. Amazing. But don't really know what to think about JWill now. Still 50/50 on staying or going I would guess.

I really wanted Shannon! He's a great defender who could have stepped right into Toney's spot.

As of right now we are very young at the guard spots and very mature at power forward and center. Nick Smith and Black may never come out of the game.

I know we like to get lots of free throw attempts but when the lane clogs we need a knock down shooter out there. Can Pinion guard well enough to be that guy?

That has always been my question with Pinion. Can he guard SEC level talent? If he is as deadly from behind the arc as we think he can be, then he has value. Can he guard on defense and create on offense? I hope it's yes to both questions.

The Hogs have pursued Shannon very hard (just like lots of other schools). If they can get him, they will still make room.

J-Will returning may seem less likely with these four big additions, but he will be gladly welcomed back if he doesn't like his draft grade. That will be what determines his future. Even though we are over on numbers, he is not necessarily gone.

Also seeing hints in more than one place that someone else will be leaving soon. Not sure who, though.

Geez, I leave for a few hours and we get another portal player with good length. I like Graham a lot. I much prefer portal players that have started at the Power 6 level. You can be more sure, with Muss as the coach, that they can contribute at the SEC level. And, Graham was 2nd team All Pac 12.

Think Justin Smith. Not saying Graham will be that good, but their stats were similar coming from Power 6 teams. Muss has shown players like Smith and Graham play better for him than their previous coach. Muss sees their best attributes on the floor and plays to that in his system.

I'm very happy with Graham. I expect him to be a good contributor with a great shot at the top 7 or 8 players, perhaps even a starter, especially if "God forbid", JWill doesn't return.

Well there's only four possible candidates left:
Williams, Johnson, Devo and Robinson.

The A-10 is a pretty solid conference as well. I think both Mitchell twins will be strong contributors at Arkansas. But I agree, you can't help but be super excited about Graham and Brazile, coming from the Pac-12 and SEC, respectively.

/**/