It's 73 baseball degrees at beautiful
. Baum-Walker Stadium.



. #WPS #ThisIsBaseball #OmaHogs
Hope Wick gets back in a groove. Fla pitcher has given up 75 hits in 75 inn so let's hope we hit him as well as everyone else has but he throws every bit as good as Tenn Sunday starter that gave us problems
Misery got 6 runs off this guy and Vandy got 7, so he can be had.
I think I'm gonna get Jobu on the board early so maybe the hogs will start early. Just my hope. I can't take many more of these dry games until the 6th inning. I want an easy run away if at all possible. Good for my health.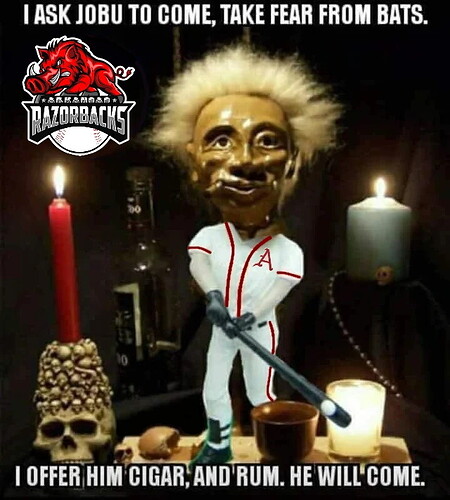 We never seem to get off to a good start lately always behind
beginning to think that's our game plan…
#1 let the other team get a good start
#2 let them build some confidence
#3 Around the 5th or 6th inning show them they were wrong
#4 crush the opponent in the late inning and show them how wrong they were

Dodged a bullet, let's go offense , get it going

That strike out should be a momentum changer!

Dammit last time the Hogs needed the lead I took a shower and while I was in there they came back and took the lead against Tennessee. I hesititate to do that though because I still got a few days before my scheduled shower again. May want to save that for game 3! LOL

Atta boy Casey! Now let's get him in!

Put the bat on the ball Gregory!!

Just need goodheart to get a homer! Or a Wallace HR. LOL

A homer would be great, but a base hit is needed for sure

Well it's one of those days. Give up a home run to be down a run and then get a runner to 3rd with 1 out and the next batter goes down swinging. Then we get a walk and here we go. 3-0 count and walk to load the bases. Slavens has the chance to get it done.

JOBU!!! WHERE ARE YOU???

Evidently my post needs more body!!

.

Runner on 3rd 1 out get nothing!! We have to get much better in those situations!

/**/