Here are Arkansas player shot charts for February. Included a few things that stood out below a player's chart: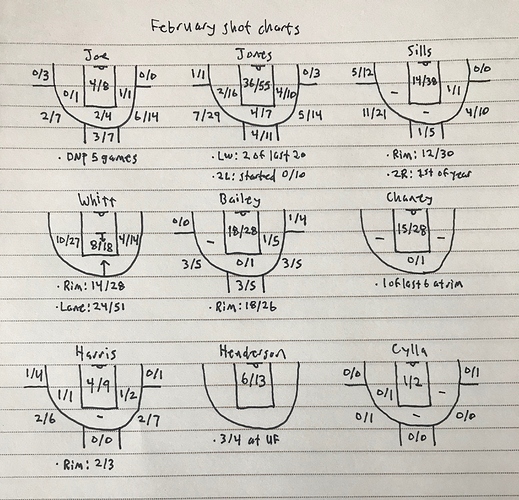 It's amazing that Chaney and Bailey shoot so poorly at the rim. Also seem to fumble a lot.
Adrio was the team's second-most consistent finisher at the rim last month behind Mason, who was 36 of 50. Length has bothered Reggie of late. Desi's numbers are pretty rough. He was 0 of 9 at the rim against Auburn, Tennessee and Florida - 0 of 13 in the lane.
What do 2R and 2L for Jones and Desi signify?
2-point attempts outside the lane.
Adding February numbers with players' numbers through January to get season totals and came across this nugget: Mason Jones scored at the rim 36 times last month. He'd scored 43 times at the rim in the first 3 months of the season.
He is finishing at a 68-percent clip in the restricted area this season.
And when he doesn't finish in the lane he gets fouled most of the time. So that should also be factored in.
Should have passed this along earlier, but Mason Jones now leads the nation in fouls drawn per 40 minutes at 8.1, according to KenPom.
This topic was automatically closed after 30 days. New replies are no longer allowed.