Might not be in my lifetime but FB is a dying sport! NFL is for sure & right down the line.
Is football a declining sport?
The data show that across indicators a decline in participation, attendance and viewership across most metrics is more than a decade in the making. The data also indicate that the decline accelerated towards the end of the decade, most significantly in youth participation.
Is NFL losing popularity?
All NFL games are averaging 15.7 million viewers to date, down from 16.5 million at the same point in 2021 (which also was the best start for the NFL since 2015).Nov 4, 2022
What sports are declining in popularity?
Cross country, swimming and diving and competitive spirit registered the biggest decline in the past three years among Top 10 sports with a 13 percent drop. Flag football and girl's wrestling continued their recent surge in popularity with a 50 percent increase since 2018/19 (21,124 to 31,654).Sep 21, 2022
SEPT. 14, 2022 1:17 PM PT
The first national participation survey in three years for high school sports showed a decline of 4% across the country with football participation levels also declining, according to the National Federation of State High School Assns.
The last participation survey was conducted in 2018-19. When the COVID-19 pandemic started, seasons were disrupted and the surveys halted. In this latest survey for 2020-21, there were 7,618,054 participants in high school sports, down from 7,937,491 in 2018-19. It was also the lowest participation number since 2008-09.
Boys 11-man football declined 3% from 1,006,013 to 973,792. There was an increase for 6-, 8- or 9-player football.
Among the top 10 boys sports, golf was the only sport to increase in participation by 4%. Golf also increased among girls.
Soccer moved past basketball to No. 3 in popularity among girls behind only track and field and volleyball.
WHY, why, why??
Why are people quitting football?
Poor coaching, overbearing parents, toxic team environment, and lack of skill are some of the top reasons why kids choose to hang up their cleats. The undisputed # 1 reason why kids quit playing football is because of their coaches. I have been involved in sports my entire life, both as a player and as a coach.
Is NBA or NFL more popular?
Except for salaries and total attendance, the NFL still seems to have a lot bigger numbers than the NBA.Nov 9, 2022
NOTE
What is the #1 sport in the world?
Soccer
Soccer is the world's most popular sport. It is played by more than 20 million people in more than 140 countries.
What is the #1 sport in America?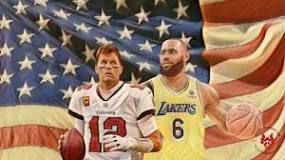 American Football. American football is the most popular sport in America and is the favorite sport of 37% of the country. The NFL is also the most popular league and is supported by 55% of Americans.
Some good reading!!
Any thoughts?