According to a tweet from his uncle.
Great news!
I hope everyone that wants to returns. Just need a couple of snipers.
Yes for sure a couple of snipers would be a welcome sight.
Well lead off homer for Bama. Not a good idea to stay with Adcock that long. Good job by Adcock for sure.
Very good news. I think Darrian is going to be a dog. Would love to have Pinnion and Dunning back too.
Ford is built tough, physical, and confident.
Seems like a solid individual and by coming back the signals I get are that he expects to earn his playing, not have it guaranteed, and has confidence in his ability to do just that. I will be rooting for him to accomplish his Razorback dreams and create his Razorback legacy.
He's a very tough kid needs to work incredibly hard on his outside shot so he can become Devo JR
Needs to work on his outside shot. Good energy guy. Could very well develop like Devo. Hope Pinion and Dunning stay as well. They need time in the system to develop.
I don't recall Corey Beck having a great shot his first season or two. But, became one of our all time greats. I'd like to think Ford can compete similarly.
Yes I noticed after I posted. Thank was surfing the board! Sorry.
Great pic! Got to spend a little time with Derrian back in October. Absolutely great kid, as was Barry.
I would love to see Muss keep the bulk of this team together.
They are all great kids.
It has been fun following Derrian for the past few years. He's the kind of person you don't mind your kid emulating.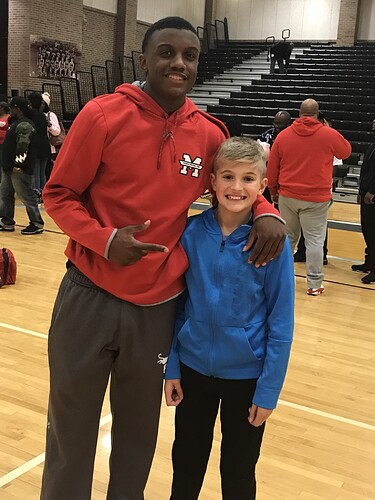 December 2019. Derrian was a sophomore
February 2022, Derrian's senior year
The recent pic (previous post) was taken 3 weeks ago in Nashville.
I think the fans will grow to love him like we do Devo. So happy he is staying.
Looks like your son has hit the growth spurt I never had.

Thanks Derrian for staying. You made a lot of hog fans happy!

I haven't asked Joseph if he's coming back but I have seen no indication that he isn't. He was in the gym late last night.

/**/