Great info Swine. Thank you.
To be clear, I have absolutely no inside info, but I had read the protocol I linked above and knew that just being around your teammates doesn't necessarily doom you. The team now watches video out on the practice court with chairs spaced six feet apart to avoid close contact in that setting. I would presume they space out seats on the plane, and lockers in the locker room, for the same reason.
I unfortunately have to deal with this every day. I have to rehearse my college choir outside. Under a tent. Spaced. Masked.
Life in the pandemic. My immunocompromised wife and I got our first vaccine shots of the Pfizer last Thursday. That was a blessing.
Hard to believe over 500,000 have lost their lives. Including some people I knew. It hits home. Blessings and condolences to anyone who has lost someone from this (or anything else for that matter.)
I've never sung in a choir but I would think a spaced choir isn't ideal from a musical standpoint.
I was wondering how teams can have 1-2 players out for games but rest of the team plays. That explains it, no one is within 6 feet of anybody for 15 minutes on the court, and then the spacing on the bench, plane, etc. I see now how it's possible how we could sit out a player for COVID protocol and still have the game.
I hope it turns out be be false positive
Yeah, hope so.
Some of the players celebrating with fans after the win against 'Bama was a bad look. Someone should've stepped in and removed those players from the crowd immediately.
I've read the explanations, but it seems awfully strange that practicing or playing basketball for close to two hours doesn't count as close contact. Moreso than even football. I won't argue against the protocols. I think they know what they're doing and I know there have not been many serious illnesses among college athletes all year, but it is still hard for me to imagine the contact in basketball isn't close enough to count.
Makes me wonder what's going on at A&M, though.
Do we know for sure that the team flew to SC this afternoon? I have faith that Muss wouldn't put the team or season in jeopardy at this point, or any time really, for a meaningless game.
If it's just one or two guys, he doesn't have an option. Staying home would be a forfeit.
The KINEXON device, which all our guys have, monitors who you've been close to for how long, and game footage can be used to confirm KINEXON in the case of a recent game (which obviously we had Saturday afternoon).
Here's the algorithm for determining close contact from a practice or game: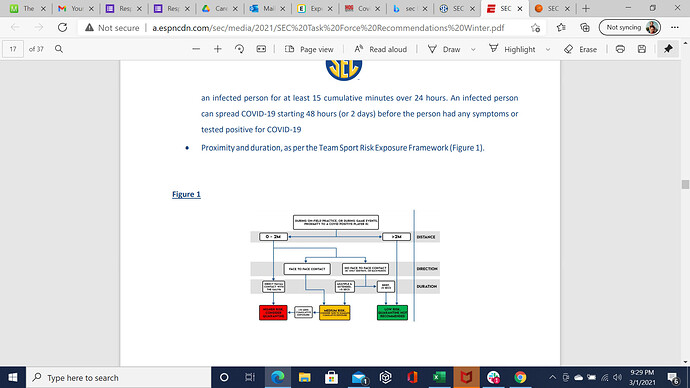 I'm watching Okie Lite vs. Mobilehoma. They just showed a shot of the OSU student section, I'd say about 10% of the students in the shot were wearing masks. I just shake my head. I'm not sure it was a lot better in the Trough Saturday. Or Wednesday.
I absolutely hate watching televised games from Stillwater. The angle gives me vertigo.
Cameron Indoor at Dook is the same way. The cameras are on a catwalk above the stands, I think; basically a hockey-style press box. It's been kinda nice with no crowds at Dook this year because they can use decent lower-angle cameras that aren't possible when the fans are there.
The camera angles are better than the basketball in Durham this year. That's true in Lexington too. So sad.

But it is not about just the players, but it is about the players giving it to people around them including parents and grandparents. That concept is lost on the young people.
Questions;
Did the basketball team & staff get COVID in the summer as rumored at start of season?
If so how many and who?
Is this the first or second time getting it for infected player(s)?
From what I know "most" of the team had it. Don't know names. Muss has not had it.
That rules out Muss.

Thanks Swine as always for the detailed info!

That don't fly out until tomorrow after a walk through practice (no shooting) per Muss in an article I read this morning. They will get to SC and do a shoot around there provided something doesn't change and they don't go.

/**/