I've updated this story with thoughts from Eric, Nick and Trevon.
Thanks for all the info! This from your article:
"Not many people are going to talk about Barry Dunning," Musselman said. "I thought Barry played really well."
You can let Muss know that several of us posters on this board were "talking" a lot about how well Barry was playing. His play today really stood out to me.
I think Dunning is gonna get a lot of run, Larry. He is bigger and more athletic than I thought, and I was already pretty high on him.
He probably just wanted to get that line on Barry in there because we were all asking about Nick, Council, Walsh, Kamani, etc. Barry is a kid who is going to do what he's asked and play hard when he's on the floor. That will earn some points with Eric and the staff, I'm sure of it.
Post-game press conferences:
Several of my thoughts from the exhibition win Tuesday:
Teamed up with some of my guys at other sites and came up with a full box score from Tuesday's game: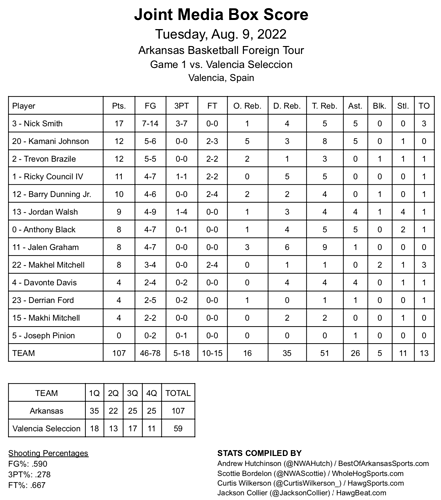 The stat breakdown Muss tweeted this morning says 46-79 shooting, 5-17 from deep.
Interesting. Not really sure what to say other than people can watch the same thing and see it a bit differently. We each took one quarter, and I found in the second that the scoreboard operator gave Arkansas a point during the Musselman technical situation. So the Razorbacks scored 107 points. I will have another updated box score shortly.
Obviously 3 point shooting percentages in this game are the opposite of what it will be for the season. A 3 point shot without a dribble should always be higher percentage shot than after 1-3 dribbles. I did notice at least a couple times a 3 was forced with a last second pass that required a desperation shot. That miss is not the shooter's fault.
Having served my time on the UA stat crew, the number of attempts can vary with the observer; a tip in the area of the basket can be called a shot, or not. As for the discrepancy in 3s, maybe you thought there was a toe on the line on one shot and they didn't. Also, sometimes a halfcourt heave at the end of the half/quarter is called a shot, sometimes not.
The updated box I posted has Arkansas at 5/18. Perhaps Nick Smith's heave at the end of one quarter was counted. I don't count long, end-of-half/quarter heaves as attempts.
I just looked up the guideline in the NCAA stat manual (below). In most cases you're right, but if it's something that resembles a normal shooting motion and is not rushed to beat the buzzer, it can be called a shot, even from halfcourt or farther. Same applies for a heave to beat the shot clock; if the ball is tipped away and the point guard flings it over his shoulder from midcourt with :01 on the shot clock, no shot.
For example, US Reed's famed shot to beat Louisville was not rushed and was something resembling a normal shooting motion, so it could have been an FGA even if he'd missed.
A FGA is not charged if an unsuccessful shot is taken near the expiration of time for a period or for the shot clock, and it is the statistician's opinion that the shot was a desperation shot and not a reasonable attempt to make a field goal. One or more of the following factors should exist in order to classify a shot as a desperation shot. The shooter: (1) Is outside the normal shooting range. A shot from just beyond the three-point line would usually be considered in normal shooting range while a shot at or beyond the division line would be outside normal shooting range. (2) Uses an abnormal shooting motion, such as an overhand baseball toss. (3) Rushes or hurries the shot to beat the expiration of time. A shot could be considered rushed or hurried if the shooter tries to control and shoot the ball in the same motion with not enough time to get into a normal shooting position (squared up to the basket).
Shot charted Game 1 like I would any game during the season. Had Arkansas 40/53 in the lane with 16 dunks, 1/7 on two-point attempts outside the lane and 5/18 from deep. And this is for @gashog:

Dunk totals
Anthony Black - 3
Trevon Brazile - 3
Nick Smith - 2
Jordan Walsh - 2
Makhel Mitchell - 2
Ricky Council - 1
Barry Dunning - 1
Jalen Graham - 1
Kamani Johnson - 1

That is fantastic!!! PG and C tied for first. That's a story right there.

Dunning's dunk on the inbounds from Nick was an eye-opener for me. The more I see, the more I like.

Absolutely! I don't recall reading in recruiting write ups about Dunning's athleticism. He's not as athletic as Ricky, who's otherworldly when it comes to athletics, but he has very good athleticism. Much more than I was expecting. He may even be 3rd on the team behind Ricky and Jordan.

I think Muss stole one there. I can't imagine a universe where Oats or Pearl wouldn't love to have him. Glad he's one of the good guys.

/**/