Inducted into Arkansas Sports HOF. Well deserved and maybe a little late coming. Scotty Thurman showing big praise for him.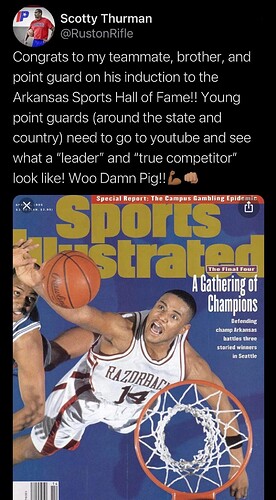 I'm sorry I did not know this. I would have been pounding the table for Cory Beck. One of the great Razorbacks!
One of the all-time greats! Played the game the way it should be played
He's had a few tough patches in his life. Glad for this honor. Deserved.
I attended the ASHOF induction ceremony on April 8. Wow, what a group of inductees! All were very deserving of the recognition. Surprised some were not already in the Hall.
Corey gave a wonderful acceptance speech. Probably got the biggest laugh of the night for the way he got in a plug for his Fayetteville business, Corey Beck Custom Painting. Call him at (479) 502-7103 for interior, exterior, residential and commercial projects.
One of the all tie best. This is certainly one of those cases where the stats do not come close to telling the story. He was the glue for a NC team. As Nolan would say, he was the head of the snake.
If you missed it, Bob Holt wrote this on Beck's career prior to his induction ceremony.
Corey is a wonderful human being. Just a beautiful person. I so enjoy my time around him.
Jean Ann and I hired Corey and his company to repaint our living area – and that's about four rooms and with big vaulted ceiling and a deep stairwell. Jean Ann painted the other rooms, bedrooms, etc. But we both knew the high stuff was basically a pro job. This was earlier this month. They did a wonderful job.
Corey and his team had the baseboards taped and paper put down in the hallways and stairwells in 15 minutes. That would have been a job in itself. Then, they attacked it. They moved appliances and painted to the baseboards in those areas and got to the high stuff. Then they came back behind each other as it dried and gave a second coat. I thought one did it, but they insisted on two coats.
Our entire house was yellow when we bought it. Every room two stories. Now there are bright colors in most rooms. But the great room and living space is reflective white. So all of our art work (and taxidermy stuff like ducks and trout) all pop.
Corey and I talked a little bit about the Hall of Honor and Hall of Fame awards that have come his way lately. He said he messed up early in his adult life and so that meant (rightly so) that he had to prove himself and he was fine with that. Just made it more special when they did come. He's extremely smart. You don't perform on the court the way he did without high IQ. Everything he did as a player was calculated and on target.
To this day, Corey Beck remains one of my favorite Razorbacks of all time.
Several years ago we pulled up next to Cory in his work van. I had no idea at the time he had his own business. He's one of my all time favorites.
I got to spend an afternoon with Corey at a golf "tournament" outing in Bella Vista several years ago. (We handed out water and cold beverages as the golfers came by.) He was so nice and I really enjoyed talking with him. I don't remember much of what we discussed, but I did ask him about the game vs. Mizzou when the Spirit of Barnhill was released in BWA. He agreed that was a nearly perfect game by the Razorbacks.
This topic was automatically closed after 30 days. New replies are no longer allowed.