Been reported that it's down to Ark and USC for the go from Miami.
Dude can really play. Good shooter, bowling ball, super quick. Think Kareem Reid with a jumper. Will be interesting to see since Muss has a stated preference for big guards.
Definitely one to pay attention to.
So you believe he's a take? Just seems so odd with the way Muss covets lengths. But Lykes can certainly play.
I'm guessing that 5.5 number in his stat line is rebounds per game. Because if it is, well consider me very impressed.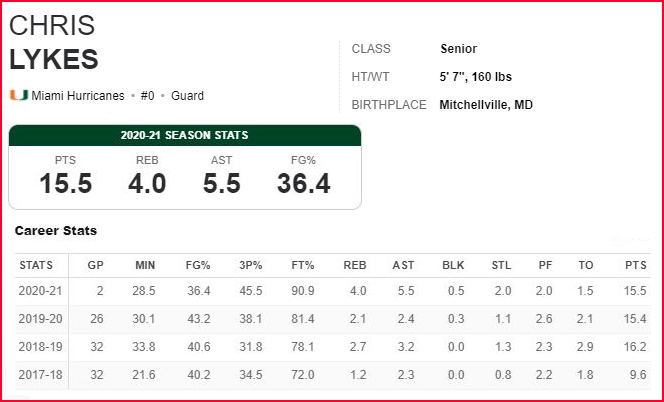 If he is 100% healthy, he is a gamer. Coast to coast like a water bug. I will be surprised if he gives up sunshine and coast for Fayetteville.
My grandson goes to the U of Miami and I saw Lykes play against Wake Forest (in the 2019-20 season, which was his last full season) and he was OK at best. He scored 13 pts, but went 1 for 8 on 2's (had a hard time scoring at the basket), 2 for 2 on 3's and 5 for 6 on FT's. He had 3 assists and 2 TO's and with 2 reb's and 1 steal. It was just one game, but he did not have a great game. He is cat quick for sure!
4.0 rebounds per game at his size is quite impressive. That's hustle.
I, too, wonder about his size given Muss' preference for long guards, but we shall see.
Look closer at his stats because the printed stats are for 2 games in the 2020-21 season. The better stats to look at are the 2019-20 season where he only had 2.1 reb/game and 2.4 assists to 2.1 TO's/game. He's a good 3pt. shooter and good from the FT line.
Good catch on the 2 games. I missed that. But 2.7 boards in 32 games in 18-19 is still not bad for his size. Interesting that his assists and turnovers both went down from 2019 to 2020, by more than his minutes went down. Record was not great in both seasons. But I see he had 24 points against #8 Florida State and 18 points against #11 Louisville in 2020, so he was capable of producing against top-quality opposition. Had a season high of 27 against Clemson that year.
Does Muss really want a 5'7 point guard? I just don't see it happening.
He would have to be a 20 point a night guy I would think.
Just thought of something. Earl Boykins, now on UA staff, played for Muss in the NBA. Boykins is 5-5. If he could go with a 5-5 point at Golden State, he could go with a shortie here.
Don't know what will happen but this guy is was the leading scorer on an ACC team 2 years in a row and 1st team all ACC preseason this year (before getting hurt).
I think if he wants to come that would be awesome.
As I stated earlier in this thread, the dude can play.
If Coach Musselman wants him and he comes here, then the Arkansas staff will have done a deep dive on how he fits in, how they would play offensively and defensively with him in the game and will have gotten that across.
Like someone else said, this isn't a 5-7 junior high kid, He is a young man that was preseason All-ACC.
As for KK Robinson, I remain steadfast in my opinion that the young man is going to be a star here.
No matter how some of you seemingly to want to push him out the door and for some reason believe is unhappy and afraid of competition,