The Manning brothers are funny. I love it when Eli makes fun of Peyton's giant forehead.


Love me some Eli.
He wasn't playing well at all his last few years, but I loved watching him in big games.
Remember when he can to Fayetteville with Ole piss. I was in a friends seat just he few rows up from our bench. He threw different out passes right toward me. I was so impressed with those balls. By the way, The Hogs won the game, but it was not because Eli did not do his job.
Also remember the day Peyton came as a freshman with TN. He went something crazy like 28 out of 32 or something. Could not get off the field (sort of like what we have seen lately). That was a good game as well, but the Hogs lost that one.
Wasn't that the game that the guy streaked onto the field?
I think you are correct. It happened for sure when I was in those seats. It was either Ole piss or KY. I am thinking perhaps KY which the Hogs lost for some reason.
For certain it was Ole Miss in 2002. Streaker came out of the North end zone wearing a hog hat and a red thong with a Rebel stuffed puppet in front.
One of our O-lineman decked him when he got to the huddle. Then the state troopers ran him down.
We ran all over them that day. If memory serves, Fred Talley broke off a huge run right after for a TD. Then Tom Crowder recovered the ensuing kickoff in the Ole Miss end zone for a TD.
You're welcome…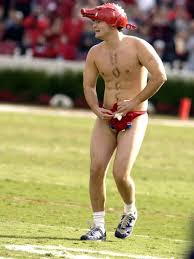 The Chad Powers stuff was classic. Franklin handled well. By the way, he seems a good fit at Penn State.

That is very good. The Manning brothers both have a great sense of humor. Peyton's tv commercials are excellent.

Now that's funny. That's funny raht thar…

Eli was also the QB in the 7OT game at Oxford.

/**/