Dawgnation's Jeff Sentell sent this text about Lindberg:
"Chad told me he is signing on Wednesday. Not announcing where."
Not a good sign for Arkansas, IMO.
This dad-gummed early signing period would seem to be a good thing for a school like Arkansas under normal circumstances. Yet, it has been around 3 years and we're about to get screwed by it for the second time.
Just another reason it stings so much to have to fire a coach and start the program re-building all over again yet another time.
Someone on a Georgia board is probably saying the same thing. Since he has not been committed here but has been committed to the Dawgs, I would suspect they're worried about a flip. I would be too. I think this is better news for us than for them.
I am with you on this SF. Doesn't mean he is coming here but not confirming he will sign with the team he has been committed to for some time is not particularly reassuring if you are fan of that team.
Probably just wants more time to think it over but this would seem to indicate we have a chance.
I had forgotten that he had de-committed from them. Was thinking that he was interested in us, but had not had time to visit before the signing date, so we would be squeezed out.
Factoring the de-commit in, I believe you're probably right. Obviously, he DOES know Sam already. Probably one of (if not THE) main reasons he selected Georgia in the first place.
Maybe it matters…maybe it doesn't. But Chad's "twitter picture" is of him and CSP. My guess is that this has been the case for a while but nevertheless it makes a statement about his relationship with him.
Retweeting a lot of Bulldog stuff and liking tweets from Georgia fans telling him they are happy he's a Bulldog.
If he flips I'll be highly surprised and of course very impressed with CSP's recruiting ability.
Post of the day and 100% spot on.
Did he decommit? I was thinking it was another kid now headed to Florida.
He also retweeted CSP's intro newser at UA for what that's worth. I'm not seeing any great trend there.
Perhaps not s great trend, but his profile pic is in a Georgia uniform with the word committed above his helmet. Contrast that with Myles Slusher removing his pic in a Oregon uniform and it's pretty telling - at least to me.
PS He never decommitted.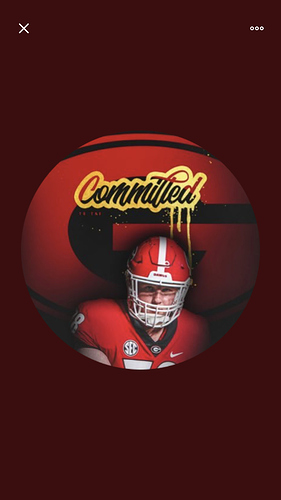 Nope, he didn't, but he's not telling Jawja people he'll sign with them either. If I'm Kirby Smart I'm sweating him right now.

Oh I'd be sweating them all… don't know how these coaches do it.

Oh seems like I thought he was a 2021 recruit! Would love for him to join us next year!!

/**/