Bobby raised 2 sons to be proud of.
Not to mention the dropped passes he had to endure as well.
Well said, gentlemen. For someone to pick one statistic over a career for one player on a team and use it denigrate a whole career is whiney and belies what it means to be a true Razorback fan. Yes, I said it. How can one support the team and or/program but badmouth a player based on his own expectations when so many other factors go into wins and losses?
Sorry, eurohog, I hit the wrong thing to make my comments. They were absolutely not directed at you. I agree with everything you said above. In fact I think I always agree with you.
I'm a Giants fan; however, my wife and I both hope that Brandon throws for 3 tds 300+ yards, no ints. He was just such a gritty player. And, to his credit, he must be doing something right to still be around the NFL and about to start another game. The NFL isn't going to keep you around because you're a nice guy.
If that doesn't make you (you in the general sense, non-specific) root for the kid, you've clearly got Grinchitis (a heart that it is two-sizes too small).
Can't go wrong with an Allen. We lived in same neighborhood for a bit. They were little guys and always wanted to play with our labs when we took walks.
Don't ever talk negatively about BA. I watched that KID. grow up at Arkansas. One of the toughest hogs ever.
Also the QB At the best game at Ole piss I ever watched other than Matt Jones and 7 OT's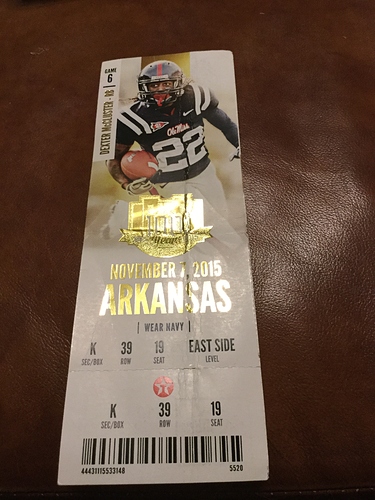 Game didn't end well. Cincy got the ball at midfield with 50+ seconds, trailing 19-17. BA was sacked, fumbled and NY recovered. He had decent stats. Just didn't get the W.

Watched the game. Allen had a lot of dropped passes in the first half—I mean like 6 meaningful passes dropped. His team was not helping his case for another start.

Dropped passes haunted him here at AR also.

The past few years it would have been nice if Bobby Allen would have another son coming up the pipeline! Brandon and Austin are tough as nails and gamers. Most of all they are both hog fans!

Both were tough as nails (now the little brother got a little gun shy after a while, anyone would with that OL, but no one should question either one's courage) and I thought both did a great job but were unfairly maligned at times (and some of it was way overboard). I always thought both were great, but as a Lab lover, if they always wanted to play with with Clay's Labs on walks as kids, that raises them even further in my estimation.

I question anyone who does not want to play with Labs!

Yep Labs and other Retrievers are some of the most people friendly dogs. Very smart and loyal as well.

This topic was automatically closed after 30 days. New replies are no longer allowed.

/**/