Heston Kjerstad looked like he might be able to lay a good hit when he knocked over that Texas first baseman a couple of years ago in Omaha. I don't think anyone would object to him being called a big hitter.
I saw Wayne Harris hit Don Meredith in Little Rock. Out cold.
Dennis "Dirt" Winston hit Anthony Davis so hard, so many times, I bet AD still remembers those licks. That was in Little Rock…the Hogs beat USC. The real USC…Southern Cal.
Loyd Phillips was a terror. BIg, fast, strong and mean…people ran away from him.
The hardest lick I ever saw by an Arkansas player was a hit by Kenoy Kennedy on a receiver from Kentucky in Little Rock, Houston Nutt's first year at Arkansas. I truly feared the player would not survive that hit. After a long while, the player did get up. How? I don't know. But he did, thankfully.
Wayne Harris was called "The Thumper" for good reason.
somewhat corollary to this topic was posed on NFL Profootballtalk asking which 3 players would you want for bodyguards in the current NFL roster. I extended it to think of Hogs whom would drop you and never blink an eye.
1st on my list was Ben Cowins who was from the tough side of St. Louis and I saw him one punch James Black Cat Crockett in a true K.O. in the Broyles center over a pool table dispute.
Scariest was Mark Lewis who went on a walkabout and came back and not even Dan Hampton would mess with him.
My close out bodyguard would have been Loyd Phillips who was legitimately downright mean and proud to show you why.
Hometown and friend bias for the original OP would be Larrt Jackson and the mini Thumper who was Cliff Powell. More fun to watch the open field hitters like Atwater.
If you ask that the qb's from South Carolina, Georgia or tennessee, they'd say Jake Bequette. if they even remember, lol
Clay mentioned most of my favorites, also Trey Flowers had that glorious season, and HDN's last 2 middle LB's were great hitters-who had the goal line hit to preserve the 7 OT win over Ole Mrs???
GHG
I'll mention Bruce Maxwell as a big hitter. He was legendary in Pine Bluff for his toughness. I've read stories on this board where players and even coaches gave him a wide birth. I played a little church league basketball against him in the late 70's and early 80's. No one messed with Bruce!
Apparently, Fred Talley was a tough customer too.
As for a body guard, I'd start with Loyd Phillips and would want Terry Don Phillips with us, too. Those were the toughest I've ever heard about. They rolled together. They would fight each other, but if anyone touched the other, you'd have to deal with both of them and you'd lose – even if you had company on your side.
Kenoy would have been thrown out of the game today for that hit against Kentucky. But it was legal then.
Hardest hit I ever saw a Hog make wasn't in a game though. Scrimmage at RRS, probably 1980. Tom Jones hung a receiver out to dry and Trent Bryant blew him up. I've never seen us hit anyone that hard in a game, although Kenoy came close. Never saw the Thumper though.
Hardest hit I ever saw in a Hog game was laid on a Hog, and we've discussed this before. Darryl Mason went across the middle against Baylor in '81 in WMS and somebody went headhunting. Pieces of his helmet went flying, including his mouth guard with some teeth inside. I'm sure there would have been a flag and concussion protocol if that happened today.
Jermaine Petty stopped the tight end on the 2-point play.
A little off football target, but I've read stories about football players crossing the street to avoid walking past Alvin Robertson who was walking toward them. He was one mean dude no one seemed to want to fight. Back in the day, he would have probably been my first choice for a bodyguard.
Alvin, though, has lost a lot of my respect after it appeared, later in life, he took some of his "fighting spirit" out on women.
No, the hardest hit was Matt Blair laying out Dickey Morton. Yikes.
Only one hit reigns supreme…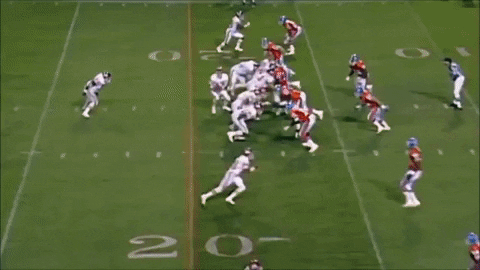 I missed that hit, Clay. About all I remember about that game from listening to the radio is we had 12 guys on the field when we scored the winning touchdown.
If it was a fight, Alvin Robertson would be a good one to have along. He was a golden glove boxer and was quick to jump in a throw down. The football players in the dorm did not want any part of Alvin.