Lots of variables, but here is an interesting side-by-side comparison of them through 16 games.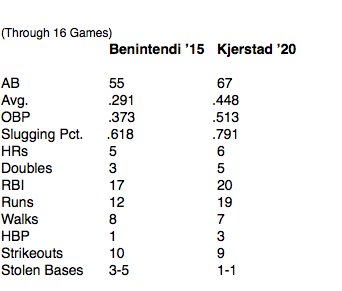 AB was, and still is a streak hitter. As you say, hard to compare.
Benintendi got hot around the the end of March, about three weeks into SEC play. Then he never really slowed down. He also didn't have the types of hitters around him that Kjerstad did.
Can you imagine trying to pitch to Ruth with Gehrig on deck?
In addition to the disappointment about missing the season, I've been really sorry to be unable to see what Kjerstad could have done for the season.
Could have been a marvel to watch.
Oh well.
I recall the conversation with Dave Van Horn after the first or second SEC series when Benintendi's homer numbers took off. We were at a Swatter's Club meeting and just visiting after everyone left. He said, "I just hung up with a MLB GM. they say they are going to take Bennintendi with their first round pick of the draft, but they don't believe he'll be there. He was. It was the Red Sox.
This topic was automatically closed after 30 days. New replies are no longer allowed.