resigned, according to a source.
If your like me and didn't have a clue who he was, well here is his bio. It seems they've already erased him from the web pages. I had to go to an online media guide to find this.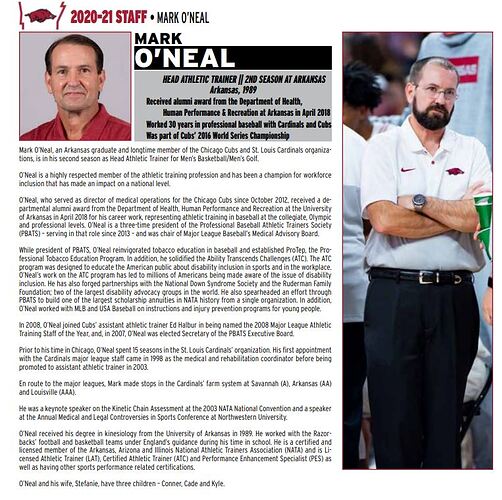 Something sudden happened here. Hopefully, it's nothing seriously wrong.
Was this a CEM hire, or was he already here when we hired Muss? I don't know what qualifications they look for in a trainer for specific sports, but it seems a little strange that we would hire a trainer for basketball and golf, who's entire 30 year career was in Major and Minor League baseball?
Lord, I hope this is just because he clashed with Muss' coaching beliefs.
Mark is a long-time friend who worked with me on Coach Richardson's staff as a student trainer.
He took over for the retired Dave England.
This is a decision he made after putting lots of thought into it.
I'll share more at a later time, but I am honoring his privacy now.
Thanks, Dudley. I hope he's all right–and I absolutely understand your choice to honor his privacy.
This was a resignation in the truest sense. No one wanted to see him go. Mark is much loved by everyone who knows him.
Then he's an old guy; just not as old as me. Lots of stuff happenng to old guys these days.
Glad to hear it was nothing conflicting with the staff or players or a health issue.
I would assume this whole pandemic situation had a role in speeding up his decision. Might explain the odd timing to resign.
This topic was automatically closed after 30 days. New replies are no longer allowed.