Thank you Votan… 24/28 from the line… helped offset getting beat 43 -34 on the boards. They dominated the offensive glass that's how they remain this game without that we beat them by 20
Specialty Stats - Side by Side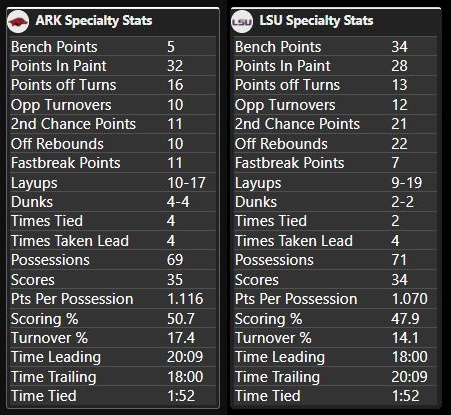 Votan where do you get this info so quick??
What was surprising to me is that we only had 5 bench points tonight!
I have a pack of garden gnomes that watch the games with me and record all the stats so I have them available instantly!!
Actually I use this site ( www.statbroadcast.com ) for all stats… Basketball, football, and especially baseball. It tends to be 5-10 seconds ahead of live broadcasts so it removes some of the stress of watching the game on TV. For example at the end of this game I knew Notae made the second FT just as I was watching him make the first one. And when he made the second one I saw the game turn Final so I new LSU came up short. At my age I need all the help to ease stress as much as possible.

This topic was automatically closed after 30 days. New replies are no longer allowed.

/**/