This San Diego writer tries to explain why he left Arkansas out of his top 25.
Unsuccessfully, I would say.
He did not explain anything. Really that was a non story. I guess he couldn't say "I forgot." That is really a bad excuse but I've heard it sometimes. I'll accept that if it's followed by "l'm sorry." Too often one does not follow the other. It makes me sad when that happens. I still will forgive that person but I don't forget.
He writes a column discussing Arkansas fans are displeased at his clear negligence as a pollster? Duh…Clay is correct, thats not a story. The only new onfo he provided in his "story" is he's a better spell checker than he is a football analyst.
Yep, it was definitely more of a deflection, because he obviously had no explanation.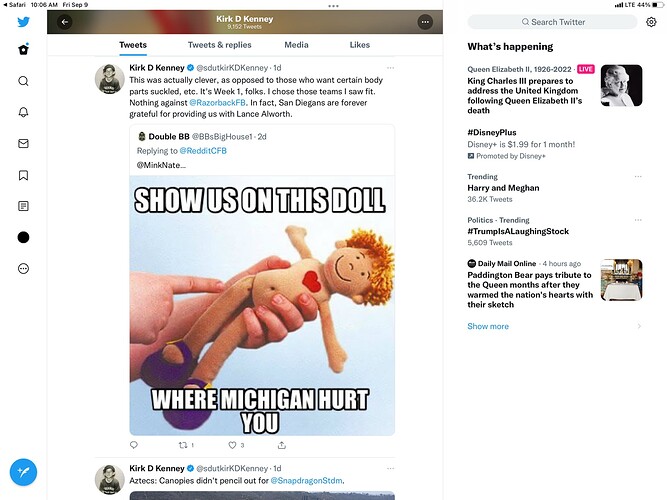 Hmmmm, Anyone care to point out his mistake, it seems that attention to detail is not exactly in his wheelhouse.

Also, though Lance was one of the greatest of all time, there have been quite a few Arkansas players come through San Diego to make a big impact- Darius Philon, Billy Ray Smith Jr and Hunter Henry just off the top of my head.

Muss is exactly where he wants to be too.

Didn't Gary Anderson play with the Chargers…?

Yeah, he didn't explain anything. He told us something we all already know–that early polls seldom look like the polls at the end of the year. Early season favorites fall away & early season "nobodies" end up as a top flight team. But that has nothing to do with voting in this week's poll following this week's game. Based upon all the factors a voter should consider at this point (and he names those) Arkansas should be in everyone's top 25 somewhere.

As did Bobby Duckworth, Danny Walters, Raylee Johnson, Issac Davis. Several older ones as well but I am too lazy to look it up.

If he didn't think Arkansas was top-25 material in his mind, so be it. Own up to it and be a man.

File him in the same folder with Spurrrier for leaving DMAC off his Heisman ballot 2 years in a row.

Pitiful info that's not even worth clicking on.

Might be time to back off that weed a little bit… as Clay says the guy never did explain anything what an absolute pathetic article, just admit you are clueless and we all would understand

Aloha,
Billy Ray Smith
UA…Campus of Champions

Aloha,
Hunter Henry
UA…Campus of Champions

This topic was automatically closed after 30 days. New replies are no longer allowed.

/**/