15 pts, 3 rebs and 3 blocks in 15 minutes in Wizards win over the Pacers.

He's found himself a home.
I would say majority of points are coming from dunks and close shots off the glass, but I have seen him stick some 10 foot jumpers. It is obvious he has been working on that. Shot those without hesitation.
He really looks re-energized with the Wizards. It's a huge plus for him playing with a couple of big-time playmakers, too. Dominant is an understatement when he gets in the restricted area.
Here is his shot data from Positive Residual: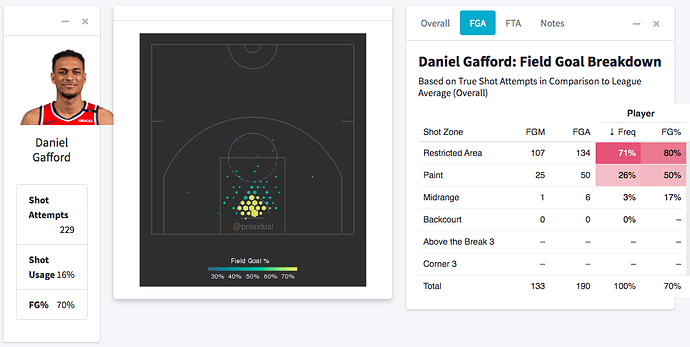 Wow! Russell Westbrook really likes Dan. And Bradley Beal of course is close to Arkansas players.
Dan has also become an excellent shot blocker, even by NBA standards. He's actually 12th in the NBA in BPG despite only playing 14.4 MPG this season. He's 2nd, to only Myles Turner, in blocks per 48 minutes in the NBA this season.
You get great effort from Dan every minute he is on the floor.
Per 36 minutes with Washington: 21.5 points, 11.5 rebounds, 3.9 blocks. He played a little less than 400 minutes over 31 games in Chicago. Sixteen games in with the Wizards he's at nearly 300. Good to see him get more run and stretch his legs.
In Washington, he is in the regular rotation. A regular rotation means you enter the game at certain time in the first and third quarters. It really helps the mental preparation and usually you get good results.