Makhel Mitchell and NSJ said on Instagram Live that Nick would play Saturday.
Good news to wake up to.
Bet Chris Jans don't feel the same, lol.
This would be huge, another scorer, move from seven to an eight man rotation less minutes fresher legs, nothing but blue sky's ahead I hope. WPS
Great news! I hope Nick Smith gets going on offense! He can sure open up the floor.
Nick practice 3's and more 3's, please!!!
I know folks are sick of the "drama" but one thing is 100% clear to me. That kid has wanted to be a Hog his whole life and really wants to get back. Hard for most of us to truly put ourselves in that spot but it's gotta be tough. Rootin for the kid.
I'm still confused on the "drama". Nick has never caused any drama. All he did was get hurt, tried to play through it and couldn't. Seems to me the fans are the ones that caused all the drama.
My thoughts exactly. If he scores 2 or 20, he has shown he wants to be a hog. Most projected 1st round picks would be preparing for the draft. He is a man of his word. Would have loved to have had him as one of my Soldiers, he would definitely be a leader.
The "Drama" was only by naysayers on message boards that are always the same individuals that spread drama in all sports. I do not believe that there was even a hint of drama on the team itself.
Of course, you are right, Jeff, but I do think the whole situation could have been handled better…by all parties.
It was tough watching Muss be visibly frustrated whenever Nick's name was mentioned, and it was even more tough watching guys like AB, RC4, and Makhel play thru their injuries.
All that said, I am super stoked Nick is back.
Let's git it!
I understand but truth be told Muss gets frustrated pretty quick about the least little things. I love the guy but he runs hot most of the time.
Lets get this dub Saturday!
Concur. I doubt he's returning to be player 6, 7 or 8.
Nevertheless, as a minimum he'll provide another reliable ball handler, enabling AB and Devo to take a seat and grab a rest for a couple game minutes - a good thing late in the season.
I was as frustrated with this situation as anyone on here, but really it wasn't because of Nick.
It was because I was drooling with anticipation to watch this team of studs kick a$$.
We were back, baby!
I know how good Nick is…better than Miller, Wallace, and George.
I couldn't wait to watch that guy and was devastated when we lost TB.
Now he's back, hopefully at close to full strength.
And, I apologize to Nick for ever doubting his allegiance.
He didn't have to ever play another game for the Hogs, but it meant something to him, and now he's back.
I'm glad he didn't listen to a$$holes like me who doubted him.
As an aside, Nick coming back and curb-stomping the Cats at Rupp sent me to the store for more Kool-Aid. I just placed another hundred on the Hogs to win the natty at 55-1.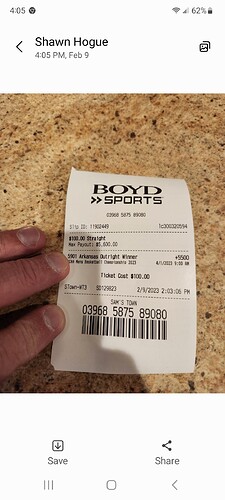 Shawn Hogue is my cousin that lives in Vegas and Ryan's brother.
Ah ha…sold another car did you?


Not in over a week. That ice storm was brutal last week, Danny, but the Sun is shining today!

I think it turned into a drama, primarily because of the secrecy around the injury.

We still don't know what the injury was or is. Describing it as 'knee management', something that Richard Davenport said he has never heard of in years of covering Hogs, added to the drama.

The secrecy usually leads to speculation and in this case it was about agent advice, NIL contracts, etc. it gave a huge opening to conspiracy theorists. Sone even questioned if there is an injury.

This could have been easily avoided by being transparent. Yes there are privacy issues, but we have always known what injury players have until this. Why not with Nick?

Because his group told our staff they couldn't talk about it.

If I'm being honest, that is a fair question, but thankfully the point is now moot.
Let's rally behind Nick and the boys!
There is still so much to play for!
Go Hogs!

Just as we get Nick back, it's reported on the baseball board that Jaxon Wiggins is out for the season with UCL tear and will have Tommy John

/**/