Oh my goodness… Just so unbelievably sad!!
This evil young man ruined he lives of hundreds of people. so sad.
Heartbreaking….prayers for all.
My heart goes out to the kids….I don't have words only tears…I will pray for them. I only hope the kids have great family support.
Tampa Bay pitcher Brooks Raley is from Uvalde and attended Robb Elementary where the massacre occurred – and that's what it was, a massacre. Possibly as a result, during tonight's Yankees-Rays game, the TB and NYY Twitter feeds were statistics about gun violence, not game updates.
So sad!. This makes me so angry. This is broke.
I guess this will keep happening. Why would it stop? It's depressing as hell. Not just that these children and adults were killed like this. That, alone, devastates me. But that those in leadership have not been able to act to stop it. Or even really curb it. And in some cases they've actually acted to encourage it.
I don't like where we are in this country right now.
"Absolutely no words" describes the sense of loss I feel in reaction to this continuing horror in Uvalde Texas, and the failure of our society to protect these children. The loss of this grieving father reinforces the thought that my pain and the pain that we experience subsides with the news of some other covered event, but the people of Uvalde will continue to cope long into the future with this horror. I pray that enforcement officials can professionally be more responsive to the families and community today in an accurate accounting for the sequence of events surrounding this tragedy.
It has been happening pretty regularly for 25 years. I was a teenager and can vividly remember where I was at the news of some of the first ones — Paducah, Jonesboro, Fort Gibson and of course Columbine. I associate one particular school building of mine with thoughts of school shootings, whether it would happen at my school and how I might escape the building if it did.
I have three small children, one who is not much smaller than the kids who were murdered at Sandy Hook, and those children were not much smaller than the ones murdered in Uvalde. I've been sick at my stomach for four days thinking about what their parents are going through.
Children killing children is not just happening in schools. It's an epidemic across the country. So sad. So wrong.
A point that vox.com made this week: suicide accounts for 62% of the deaths due to firearms. Over 90% of firearm suicide attempts end with a fatality; 4% of non-firearm suicide attempt ends with a fatality. States with "high" rates of gun ownership have 4x the rate of firearm suicides as states with "low" rates of gun ownership. Child Access Laws seem to reduce rates of suicides by firearms, and firearm-related crime, substantially. (I've not used this website before, but it collects data I've seen elsewhere and uses it ethically; maybe someone else has a better resource? Firearm Suicide in the United States | Everytown Research & Policy | Everytown Research & Policy)
It should be a child health and adult mental health issue, not a rights issues. That makes it a policy change not a lifestyle change.
Hoping I didn't steer us into the weeds of politics. Apologies if so.
One thing that is EXTREMELY hard for someone who hasn't experienced a family member with mental illness, is that it is truly an illness just like Cancer or Heart Disease or any other type of illness.
Everyone thinks that mental illness can be fixed by the person that has it. They all have advice, just be happy. Don't think that way, quit doing X and you'll be fine. Well folks, it doesn't work that way. Mental Illness is plain and simple brain failure, just like heart failure, kidney failure etc and while the person that has it can do things to improve it. Medications can help, it never goes away completely.
A close family member of mine passed away in February from cancer, however she had serious depression, psychosis and many other episodes from the time she was about 30 until she passed away at 81. She tried suicide multiple times, she was committed a number of times(I had to do this twice). There were times she was able to live for years on her own but it always came back.
A lot of mental illness is caused by childhood abuse, a lot of it is genetically predisposed. My suggestion to anyone suffering from this, don't try and run from it. Go get help. If you are living with it your entire life, when your life gets stressful go get help before the walls start to come down. . . learn how to sense when it is coming on and go get help.
For family members, you may have to force the issue to get them to get help. You may be the one who has to go to a judge and get them committed. The sooner you can do this, the less long term damage they will have and the less long term damage they will do to others. Every time they go through one of these crashes, it causes long term damage to the brain that they have to deal with the rest of their lives. Scars would be the best description. Catch it early, get them into treatment.
Psychosis is an ugly ugly thing and impossible to get yourself out of.
Disclaimer: I'm not a doctor, my experiences only.
Ok off my soapbox.
kw
Yeah, I'm concerned about mental illness and it needs to be addressed and solved as much as we can. But we can't solve what happened this week without addressing assault weapons. And background checks, which could reveal a mental illness and preclude a weapons purchase. I own several firearms for hunting. I'd turn in every one of them tomorrow — even my Browning shotguns and Ruger and Sig pistols — if what happened in Uvalde would never happen again. I'm completely fed up with it. It's an unspeakable tragedy.
Outside of not wanting to give up something for protection, I agree with most of your sentiments here, but what he purchased was not an assault weapon. Got lots of semi auto weapons to ban if we ban the armorlite rifle (AR). Basically, I'm saying banning ARs would do nothing. But i agree with all. Something needs to be done regarding mental health and stricter background checks wouldnt bother me.
You are close. It has been happening for about 18 years. It was 2004 when Congress let the ban on assault weapons expire. The ban was signed into law in 1990 by President Clinton. Unfortunately only way he got it done was by having an expiration date on it.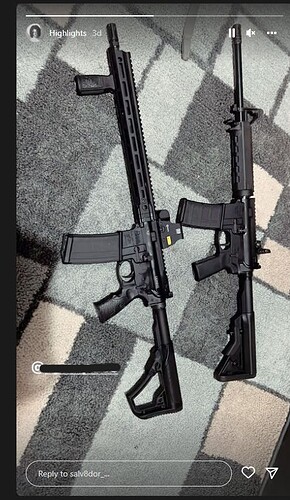 These are the two weapons he bought and posted pictures of. With those clips they are semi-auto assault weapons. Under any impactful statute or law these weapons would be banned, especially for 18 year olds. These are killing machines and serve no legitimate hunting or sporting purpose, other than perhaps pig hunting. But we can shoot pigs with other firearms. These are two absurd weapons for a disturbed young man to acquire.

Assault is the abilty to switch to 3 shot burst or full auto. These do not do that. Really not trying to argue, just pointing out plenty of other rifles do the exact same thing.

Understood and I appreciate the insight. You are likely right. But under the prior law banning assault weapons, I'm pretty sure these would've been banned. I don't think I could've bought something like these before the law expired. That law needs to be re-enacted. These clips, especially, are no bueno.

/**/