Never ceases to amaze me. I like our #5 right now, but with all due respect….
Little Steveie Spurrer didn't even vote for him in the heisman.
It's always pissed me off that Spurrier didn't even have him on his ballot. If he'd wanted to vote Tebow first, fine, but to have left McFadden off completely was chickensh**
It was shameful for McFaden to be the best player in the country 2 years in a row and get stubbed both times!
Sure enough and it's a safe bet I will Never forget that swipe. Sorry…
PS let me add it wasn't fair, IMO. So IMO some hanky-panky was going on.
That was such a fun game!
I hope the flames first offensive play ends in a Hogs sack!
That would be nice strip sack fumble Hogs ball deep in the red zone. Sanders runs it in for a Tad on the first Hogs offensive play!
He made it look so easy and effortless. I love Rocket and the numbers are similar, DMac just seemed to glide down the field. A once in a lifetime athlete. We were blessed to watch him.
Blocking was pretty good, too.
I own the football that D-Mac carried in that game, and was there (extremely drunk) in my college days!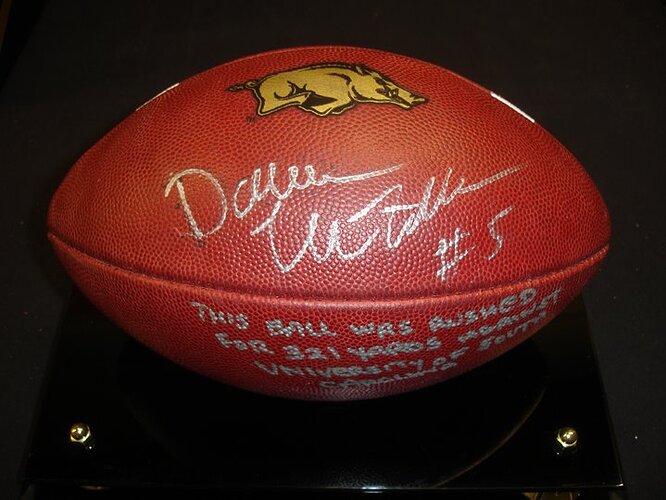 Great trophy. Hopefully you've backed off the scotch a little…I did, not that matters…

This topic was automatically closed after 30 days. New replies are no longer allowed.

/**/